Way to Die #203
:
Hillary Snuffed
, is the second death featured in "
Young, Dumb, and Full of Death
", which aired on November 9, 2010.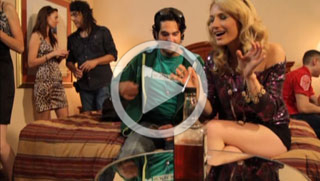 Plot
On November 21, 2009, in Hollywood, California. A former reality TV star named Hilary, under the delusion that she's still famous, snorts cocaine at a party using a platinum coke straw. A man attempts to take her picture as she's snorting cocaine, and treats the privacy invasion as a paparazzi attack. She calls in her bodyguard, who snatches the camera from the man and punches him in the face. The man falls on top of Hilary as she's doing a line, and the coke straw gets lodged in her nose, puncturing her frontal lobe and causing a fatal brain hemorrhage.
Someone once said fame is fleeting. But stupidity, eternal. Enough said.
Interviewees
Woody Clark(Celebrity Gossip Columnist)
Pun-On Details
Words: Snuff
Names: Hilary
Trivia
The fictional character is a parody/spoof of a real actress/singer named Hilary Duff.
Segment Nicknames
The Last Straw
The Final Straw (on Spike TV)
The Last & Final Straw